I'm not the biggest fan of Valentines Day. I mean – I like that people are encouraged to show love for each other, of course…but I think this should happen every day, not just once a year. However…I alone cannot stop it, so let's embrace it, and look at some lovely potential gifts for the lady in your life.
My best bit of advice? Take a real look at your girlfriend. Work out her style, her likes, her dislikes. Take a look around her room/house, check out her jewellery, know her dress/bra size. A girl will love whatever you get her if she knows some care has gone into it. I promise.
The perfume
This is a tricky one to advise you on. Every woman has their own preferences when it comes to perfume. My advice would be to make a note of the one your lady is wearing, and if she's running low, replace it. If she has a lot left, ask in the store to recommend something with similar notes. If all else fails, here are some of the loveliest scents on the market at the moment…
For Evening
Chanel No. 5 Eau Premiere
Chanel No. 5 is a classic, but a little heavy for some. This newer, fresher version is lighter with notes of rose and jasmine. Extremely elegant and a perfect choice for most women.
From £105
Boss Nuit pour Femme
A slightly heavier, intense scent, Boss Nuit (one of the three fragrances I wear) is inspired by "the timeless elegance of the little black dress".
From £32.99
For Work
Prada Infusion d'Iris
A light, bright scent containing orange blossom, iris, mandarin, vetiver, and incense. This is a fresh, charming scent for women who like a flowery fragrance.
From £42.89
Neroli Portofino Eau De Parfum
This stylish scent has notes of Tunisian Neroli, Italian Bergamot, Sicilian Lemon, Winter Yellow Mandarin, Lavender, Orange Flower Rosemary and Amber. Fresh and Zesty. Lovely all round.
From £135
For Weekends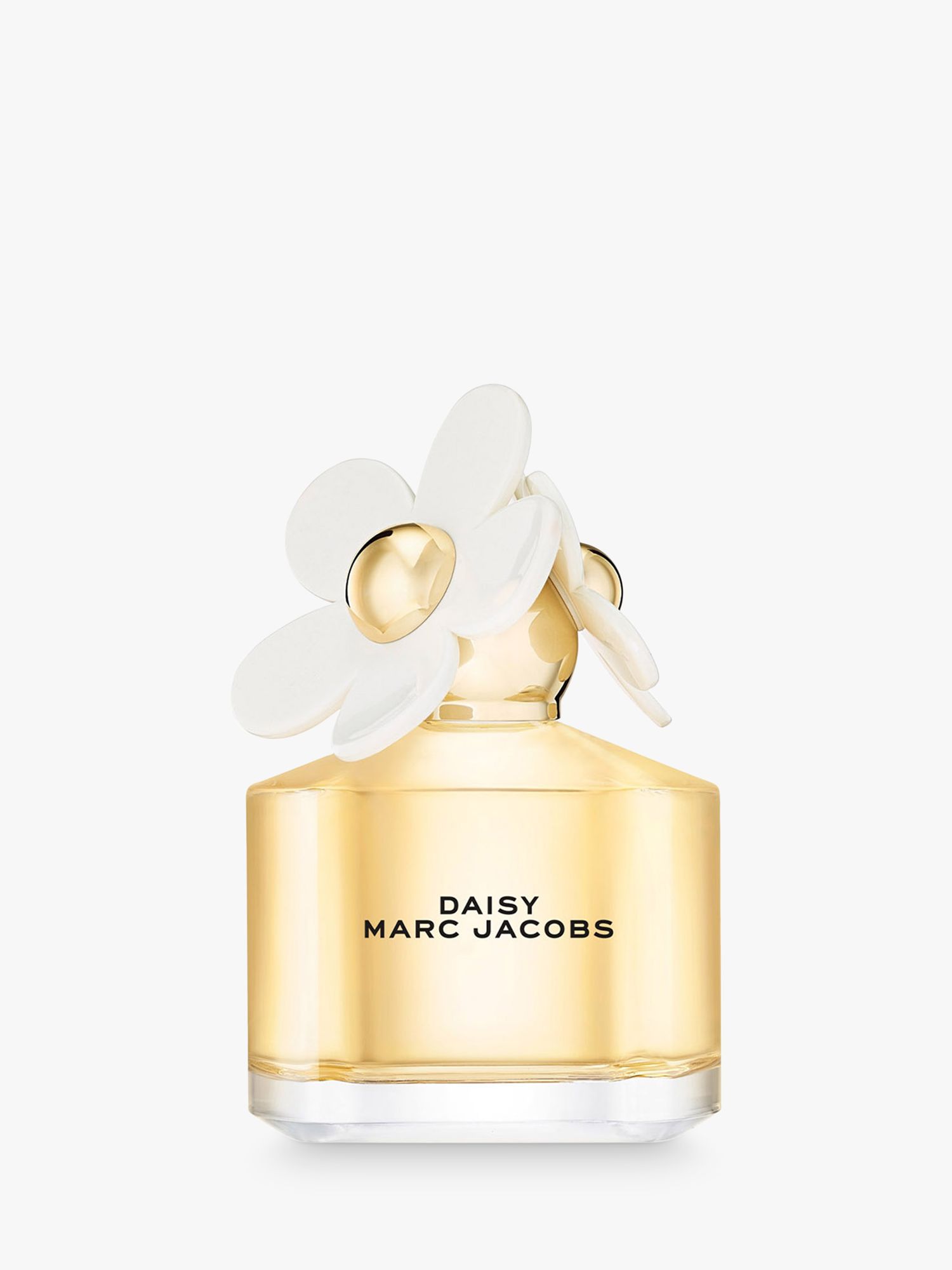 Marc Jacobs Daisy
This perfume is bright and sunny, with notes of violet leaves, wild strawberry, ruby-red grapefruit, and vanilla. Perfect for playful, free-spirited girls. Love it!
From £45.00
Viktor & Rolf Eau Mega Eau de Parfum Spray
With notes of summer pear, sparkling citron, violet leaf and peony, this fragrance captures a floral garden breeze. Simple yet sexy, jasmine and musk make this a hit.
From £49.50
The Artwork
Personally, I love artwork. Again, if you're going to spend a lot of money, please ignore me and concentrate on the kind of thing your woman already has laying around the house. However, there are certain things available that will probably suit your ladies style. Is she nostalgic, or love books? How about an Alice in Wonderland book, on a poster (many other books available). Is she romantic? How about this 3D Butterfly image. Does she loves quotes? Try something like this cute "Happy Ending" print. (All from John Lewis)
The Jewellery
When I talk jewellery here, I'm talking costume pieces rather than the expensive stuff (we'll cover that in the next section – don't worry!) There are three brands that I can always rely on for faultless collections of costume jewellery…so if you're looking for something shiny for your lady – these are the best places to start
Hannah Makes Things
I have a few pieces from Hannah Makes Things, and I absolutely LOVE them. This is a really cost effective option with a good range of products, whatever your girls style is. Cute and quirky. Love it!
My Flash Trash
Set up in 2009 by then teen-entrepreneur Amber Atherton, MyFlashTrash has grown into an online treasure trove, stocking many of the world's finest jewellery Designers. Here, you'll find everything from cute vintage inspired pieces to more high-end limited editions. Also check out the blog to see who's wearing what and how to style certain items.
Kat&Bee
I've talked about Kat & Bee before, so it's quite clear I love their stuff! Kat Barry, Kat&Bee's Designer, worked for huge brands such as Elle and Company Magazine before setting up her East London studio and creating these sparkly works of art. Kat&Bee has a highly recogniseable style that's a twist of rock and roll and romance.
The Candles
I'd never really thought about a candle as a gift before Christmas, but it was one of my favourite things my boyfriend bought me. So, on it's own or combined with another romantic prezzie, this is definitely an option to consider. Of course – I'm not talking about any cheap wax stick from Ikea – I mean a beautiful, luxurious candle packed with a sensuous fragrance that will fill the room, or the home, with a delicate, sexy scent. Try the following ranges;
Jo Malone
This is what I was bought for Christmas – and I love it. I burn it most nights before bed and so far it's hardly even gone down – so they last for ages. Costwise, you're looking at £38 for the normal Home Candles (Burn time 45 hours) – or around £260 for the luxury version (Burn time 260 hours)! I think you're safe sticking to the less expensive version though – at least you can afford to swap them over whenever you fancy a change in mood.
MRL Candles
Get a little bit sexy with MRL Candles Aromawax. These aromatic candles can be burnt as normal, and then used as a massage or body oil. Especially designed to nourish the skin, the range is designed by celebrity facialist Marie Reynolds. Their are 3 "flavours" available – and they'll be available to buy online from 1st February (currently only at a couple of selected stockists). A real treat for your lady (and also for you…you may get a massage out of it!)
Diptyque
One of the most famous names in candles, Diptyque have a number of options. Perhaps the most special is "34", a candle specially formulated to celebrate the brands 50th birthday (yes, I think it should be called "50" too.) The candle is packaged in a beautiful Porcelain holder. The resulting fragrance is full of green notes, which is neither masculine or feminine, perfect if you don't want a smell that's too girlie. This candle is £50, but there are others in the range from £20.
If none of these tickle your fancy, check out more options Selfridges. Prices range from £18 to £350+. Yes, really.
The Grand Gesture
If you've been together a while and you want to express just how much you love your lady, it may be time for the grand gesture. Now – this doesn't necessarily mean engagement rings (you may have already done that…or just not be ready) but Valentines Day is always a good day to say what you mean. Preferably with diamonds! Now…I was lucky enough to be loaned some Montblanc diamonds recently, and I have to say they made me feel like the most special girl in the world. If that's how you want your lady to feel…how about something like this?
Or how about a stunning Tiffany ring? Every woman loves receiving a Tiffany box…
A grand gesture always goes down beautifully. On Valentines, or any other day of the year.
The weekend away
This is one of my favourite Valentines presents. There are hundreds of options, of course…but I highly recommend checking out Secret Escapes. They have superb offers and discounts on some of the UK and World's best hotels. They change regularly so check in daily for new offers…and they have great last minute deals on Thursdays for that weekend.
The underwear
This is simple. Sexy but classy is the ONLY way to go. Check the underwear drawer and make sure you get your ladies size right – you'll be in trouble if you buy size 16 knickers if she's a 12 – and vice versa. You really can't go in unprepared – telling the sales lady that your girlfriends boobs are about the size of hers is never a good move. NEVER.
The best place to go is of course, Agent Provocateur. Their underwear is simply stunning.
(If your lady is over a DD cup – get along to Rigby & Pellar. Amazing for larger boobed women)
The cheeky little something
I do not know what goes on in your relationship. Nor do I want to. You do – so please – listen to this advice. Do not…I repeat…DO NOT…buy your lady a sex toy if she has never used one with you, or you do not know if she likes one. This would be the worst present EVER if it's not something you've discussed. If you're both comfortable with toys then great, get something to amuse you both, but PLEASE buy her something a little more romantic too. Even if it's a nice bunch of flowers. To my
knowledge, no girl wants just a dildo for Valentines Day. I'd suggest booking a weekend away and buying something cheeky. Some romance with some sauce. Who could complain??
There are loads of options available and again, you know what your lady will (and more importantly won't) like. I wouldn't go too daring unless you know your girl really likes that kind of thing.
My personal suggestion would be to keep things sensual and classy. This gorgeous Meow mask from Agent Provocateur is gorgeous (see it here on Holly Willoughby) and if that's not enough? How about these rather stunning cuffs. Hours of fun, no?